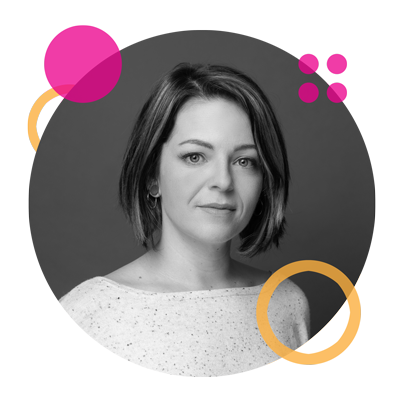 Christy Forsythe (she/her)
Designer. Director. Illustrator. Maker of things.
I'm a creative/art director by title and a graphic designer by nature. When I was 5, I started designing birthday cards for my friends on my Commodor 64, and later on, business cards for my parents on a primitive PC. That passion has only continued to grow – into devotion and talent for impeccable design, creative strategy, and most of all, innovative and moving work. 
With ample experience in branding, advertising, packaging, and web design, I've developed into a savvy thinker and distinctive designer backed by exceptional technical expertise. I've also been known to do a bit of illustration, animation and even write a headline or two. I even wrote this very sentence you're reading right now. Wow, right?
When I am not behind a computer, I spend as much time as I can in the outdoors doing Alberta stuff – camping in my vintage '77 trailer, fishing and hiking with my husband and two daughters. I also have an abundance of other interests including making clay earrings, woodworking, gardening, doing fitness things, snowboarding, and cuddling my two cats.
I'd love to hear from you.
Clients I've worked with:
• Flair Airlines
• City of Edmonton
• Alert
• AGLC
• Alley Kat Brewing
• Coulee Brew Co. 
• Select Foods
• Hungry Herd
• Eco-Max
• Alberta Innovates
• Pizza 73
• 7-Eleven
• Okanagan Basin Water Board
• AutoArriba
• Partners in Road Construction Safety
• ACOT (Alberta College of Occupational Therapists)
• CMLTA
• Growing Greener Innovations

• Project Forest
• Ember Archaeology
• Optimize Physiotherapy
Habit
Creative Director
Mar 2020 – Present
Christy Forsythe Design
Freelance Graphic Designer
2000 – Present
RED The Agency
Art Director
Feb 2012 – Mar 2020
mkm
Art Director
2005 – Oct 2012
Sobeys Inc.
Graphic Designer
2002 – 2004
Innovations Music
Graphic Designer
2001 – 2004
MacEwan University
Visual Communications
Major in Digital Media
Major in Illustration
1999 – 2002